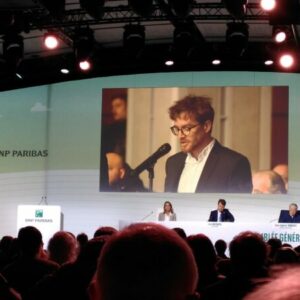 Climate: scientists and NGOs show up to the BNP Paribas General Meeting
After having widely alerted on the risks linked to BNP Paribas' support to the development of fossil energies, representatives of the scientific community, the Scientists in Rebellion collective and the associations of "the BNP Paribas case" have asked the Board of Directors of the bank to account for their actions.
Faced with BNP's lack of ambition in terms of climate change, scientists, including 10 co-authors of the IPCC 1, have questioned the bank's climate change strategy, calling on it to stop funding new oil and gas projects. In response, BNP's Board of Directors made no new announcements and continued its denial of science; shareholders, for their part, greeted the scientists' and activists' questions with boos and insults.
On February 23, Friends of the Earth France, Notre Affaire à Tous and Oxfam France sued BNP Paribas for failure to comply with its duty of care regarding climate change 2. The next day, 600 scientists published an open letter to the bank's Board of Directors, asking it to urgently stop providing financial support, directly or indirectly, to new oil and gas projects 3. 
In response to the growing number of alerts concerning BNP Paribas' practices in recent months, the bank announced new commitments at the end of January that remain largely insufficient 4. This is evidenced by the significant new financing granted in February 2023 to two of the most aggressive companies in the development of fossil fuel projects: the British major BP and the Saudi giant Saudi Aramco 5. 
Although BNP Paribas clarified its commitments by communicating last Thursday that it would end its financing dedicated to new oil and gas fields, financial support for the companies that are carrying these projects and thus the development of new fossil fuel projects may unfortunately continue 6.
« The recent announcements and the answers given by BNP's CEO this morning are insufficient to meet basic scientific requirements. Is the bank asking its corporate clients to stop developing new oil and gas projects? No. Is it asking companies to have a phased out plan from oil and gas by 2040-50 at the latest? No, » says Justine Ripoll, Campaigner for Notre Affaire à Tous. 

BNP is a heavyweight in financing new climate bombs: as recently revealed in an international report published by 624 organizations 6, BNP Paribas even increased its financing to fossil fuels last year, and is now the fourth largest global financer of fossil fuel development with $64.2 billion in financing since 2016.
BNP Paribas has been the leading global financer of the 9 major European and US oil and gas majors since 2016, and the second largest financer of Total 7. « Its connivance with Total, which will again defend a strategy that is as deleterious to the climate as it is to human rights next week at its own general meeting, does not end there. Jean Lemierre, who was re-elected Chairman of BNP today, continues to sit on the Board of Directors of the fossil fuel giant, » says Lorette Philippot, Campaigner for Friends of the Earth France.
This is why several scientists decided this year to invite themselves to the bank's General Assembly in order to question and challenge its Board of Directors directly. Olivier Aumont, a researcher in oceanography and member of the Scientists in Rebellion collective, explains: « While scientists have been sounding the alarm for decades, BNP Paribas, which claims to be a green bank, did not even bother to respond to our open letter signed by 600 scientists. To try to make the scientific consensus on the ongoing climate catastrophe heard, we had to buy shares in BNP Paribas to intervene at its General Assembly, a few days after fellow scientists carried out civil disobedience actions against this bank 8. What more should we do?"
Several questions were asked in writing 1 and orally on behalf of the 600 scientists who signed the open letter 2, including ten co-authors of IPCC reports – among them Jean Jouzel, Christophe Cassou and Céline Guivarch. The authors recalled the unequivocal scientific consensus recognized by the International Energy Agency on the need to stop investing in new fossil fuel resources. They called on BNP Paribas to take note of this physical reality by committing, as of today, to no longer directly or indirectly support new oil and gas projects.
Representatives of communities in Argentina and the Philippines that have been affected by oil and gas projects supported by BNP Paribas were also present at the General Assembly. These communities held the bank's management accountable for the human rights abuses and environmental devastation caused by the investments of key BNP Paribas clients like Shell and Total 9.
Alexandre Poidatz, campaign manager at Oxfam France, concludes: « Disobedience is on the side of BNP shareholders this year. They did not let the scientists ask their questions. They even booed and insulted (« go back home », « cállate ») the activists who came to testify about the dramatic impact of oil and gas projects on their territories."