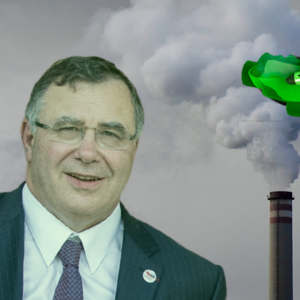 Environmental groups sue TotalEnergies for misleading the public over Net Zero
Greenpeace France, Friends of the Earth France and Notre Affaire à Tous, supported by ClientEarth, have filed a lawsuit against TotalEnergies to protect the public from the oil giant's misleading claims on alleged environmental virtues of fossil gas and biofuels.
The legal action, filed at the Paris judicial court, argues that TotalEnergies''reinvention' ad campaign breaks European consumer law as it falsely portrays the company as on track to address the climate crisis.
Clara Gonzales, legal counsel at Greenpeace France, said: "We are taking TotalEnergies to court today because it is using sly propaganda to try to convince us of the impossible: that carbon neutrality can be reached while producing and selling ever more fossil fuels when, in reality, our dependence on fossil fuels is driving up bills, wrecking our climate and funding war". 
"Just as tobacco manufacturers misled people about the link between cigarettes and health, TotalEnergies's advertising acts as a smokescreen for the harm it is causing to the planet and the people. We need to protect consumers from disinformation PR strategies that leave them trying to tell fact from fiction and delay the urgent climate action we need  ». 
At the heart of TotalEnergies' huge marketing push are claims that the company is committed to being "a major player in the energy transition" as part of it achieving 'carbon neutrality' (net zero) by 2050, which it announced ahead of its recent rebrand to TotalEnergies.
The greenwashing legal challenge comes amid growing international doubt of the legitimacy of corporate net zero pledges, particularly from big oil and gas companies. Next week, a US Congressional hearing will hear from board members at Exxon, Shell, BP and Chevron on the role of fossil fuel companies in spreading disinformation to delay climate action and explain whether their current climate pledges will truly reduce global warming. 
TotalEnergies has broadcast its questionable carbon neutrality claims both in and outside France across billboards, press outlets, its home energy website, its service stations, television, and through adverts on popular social media platforms, plastering its ads with images of wind turbines, solar panels and electric vehicle charging points. When asked about the campaign, TotalEnergies' CEO denied it was greenwashing.
TotalEnergies pushed its advertising messages to audiences across the world in targeted social media adverts and in a full 'advertorial' series aired on CNBC which presented the company as 'adapting to meeting the climate challenge'.
In their claim, the organisations argue TotalEnergies' advertising to French consumers is deceptive as it gives a false picture of the company's so-called 'net zero' plans. These plans actually include a massive fossil fuel expansion in opposition to climate science, while avoiding any action to meaningfully reduce the emissions of its operations and products by 2030.
Juliette Renaud, senior campaigner at Friends of the Earth France said: "While every climate expert repeatedly says that there is no room for any new fossil fuel investment, Total expands its oil and gas mega-projects, into Uganda, Mozambique or the Arctic. Each a climate bomb with serious impacts on human rights and biodiversity, that contradicts Total's misleading claim that it's a major player in the energy transition".
According to the lawsuit, TotalEnergies' 'ambition' to become carbon neutral is liable to be taken at face value by consumers, and therefore violate bans on misleading practices under consumer protection law, the European Unfair Consumer Practices Directive, as implemented in France.
Johnny White, ClientEarth lawyer, said: "TotalEnergies' misleading net zero marketing is deeply concerning. Its advertising distorts the meaning of the transition to net zero and skews public understanding of what is really needed for climate action – a steep reduction in fossil fuels like oil and gas."
"People are entitled to know whether the companies competing for their business are fuelling or fighting climate change, and the law is there to make sure consumers are informed, supported and protected. If TotalEnergies is breaking that law by failing to be honest with the public about its climate-damaging products and its role in exacerbating climate breakdown, then it must be held accountable."
FOSSIL GAS AND AGROFUELS CLAIMS ALSO TARGETED
Lawyers also take issue with TotalEnergies' social media adverts promoting fossil gas as the least carbon-intensive fossil fuel and "cheap" complement to renewable energy, as well as claims touting biofuel as a "low-carbon alternative" that « emit half as much CO2 as their fossil equivalents« .
They argue these messages are a clear violation of the recommendations on environmental advertising, since they misrepresent the role of gas and omit a major part of the environmental footprint of these products, which comes from their supply chain, their production method and their life cycle.
Meanwhile, TotalEnergies' agrofuels advertising fails to provide the public with essential information on significant parts of its environmental footprint. The organisations say these omissions are a clear violation of the recommendations on environmental advertising claims.
TIME FOR AN EU-WIDE BAN ON FOSSIL FUEL ADVERTISING
Recent research found that TotalEnergies promoted doubt regarding climate science in the 1980s and 90s. Another investigation found that almost two thirds of the six oil companies' advertisements assessed -including TotalEnergies' – were misleading consumers by failing to accurately reflect the companies' business as well as promoting false solutions. 
The environmental organisations are calling for an EU-wide ban on fossil fuel advertising to finally put an end to TotalEnergies and the fossil fuel industry spreading misleading climate messages. Together with 20 other NGOs, they have launched a campaign to gather one million signatures across the EU to stop big polluters spreading dangerous lies which delay urgent climate action.
Gonzales said: "Greenwashing has been part of the oil industry playbook for decades and it must be stopped, not only by courts, but also by a more systemic change: a tobacco-like ban on all fossil fuel advertising and sponsorship."
Notes to editors

The legal claim will be filed by Greenpeace France, and Friends of the Earth France (Amis de la Terre France) and Notre Affaire à Tous. The lawsuit is supported by ClientEarth, which will be intervening in support of the claim.