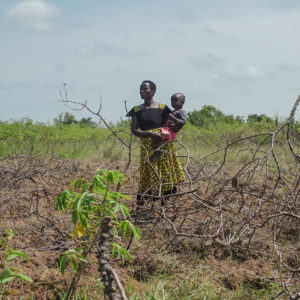 "A Nightmare Named Total" in Uganda: new report reveals extent of violations by French oil major on the eve of the appeal court judgement in duty of vigilance case.
Friends of the Earth France and Survie publish today an alarming new report on Total's activities in Uganda and Tanzania, reporting that the human rights violations denounced over a year ago are still ongoing and have multiplied, now impacting about 100,000 people.
Based on field research, the report has been submitted as evidence in the historic court case against Total, led by these two French organisations and four Ugandan groups 1 . Following the hearing held on 28 October in Versailles, France, the court of appeal ruling is expected on 10 December, 2020.
Publication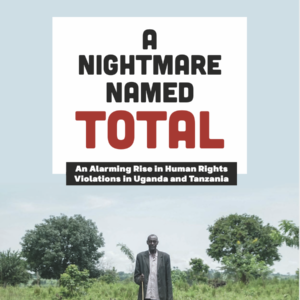 A nightmare named Total
This ruling is particularly important as it is the first ever legal action filed under the 2017 French law on the duty of vigilance of transnational corporations. This law – a historic first at both the global and national level – means that the parent companies of transnational corporations can be made liable by law in France for the impacts of their activities throughout the world. It creates a legal obligation for them to prevent risks of human rights violations and environmental damage arising from their activities, including those carried out by their subsidiaries, subcontractors and suppliers.
The Tilenga (oil extraction in the heart of a natural park) and EACOP (giant heated oil pipeline) projects, both led by Total, are causing massive forced displacements in Uganda and in Tanzania, amongst other impacts. Tens of thousands of people are now totally or partially deprived of their land, even before receiving any compensation.
The report by Friends of the Earth France and Survie, "A Nightmare Named Total", includes numerous testimonies collected in several Ugandan districts affected by these two projects, reporting situations of hunger and school dropouts directly caused by Total's activities. The people affected by the projects explain that, despite having lost their livelihoods for two years already, they still have no information as to when they will receive compensation, or how much they are owed. Many of them testify to having signed land acquisition forms following pressure and intimidations from Total and its subcontractors.
These findings echo those of two other investigations published in September 2020 by the International Federation for Human Rights (FIDH), Oxfam America and their partners 2 , as well as multiple warnings from Ugandan and Tanzanian civil society. In addition, a global petition calling on Total's CEO to urgently abandon these devastating projects has reached more than one million signatures in just over a month 3 .
In 2019, we alerted on the need for urgent measures to ensure that these violations do not repeat themselves on a larger scale. Our fears have unfortunately come true, as about 100,000 people in Uganda and Tanzania are now affected.
She adds : "Intimidation and persecution of community leaders and civil society organisations who dare to speak out against these violations and about the negative impacts of the oil projects have also multiplied. Total can no longer deny the seriousness of these accusations."
While alerts of violations are multiplying, Total ploughs on with its project, and has even decided to fast-track the evictions of local communities. This strategy seems to be yet another attempt by the oil company to escape its legal responsibilities and obligations.
The report is published in English one week before the Versailles Court of Appeal in France issues its ruling, due on 10 December 2020.
According to Juliette Renaud,
"One year after we took Total to court, the oil giant has made only a few cosmetic changes in its vigilance plan and in the field, and wants people to believe that there are only simple 'communication problems' with the communities. We consider that Total continues to blatantly violate the duty of vigilance law."
Thomas Bart concludes:
"Even when several tens of thousands of people find themselves deprived of their livelihoods, and despite the unacceptable environmental and climate costs, France is still actively supporting Total's oil mega-project, through its embassy. Specifically, it is pursuing a vast campaign to advocate for the 'benefits' that oil development would bring in Uganda, in total contradiction with its discourse in favor of human rights and the Paris climate agreement. We believe that Total should stop this project as soon as possible and provide proper reparation for affected communities."
Publication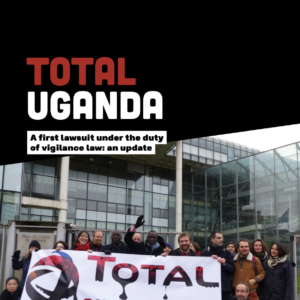 Total Uganda – A first lawsuit under the duty of vigilance law: An update
Notes
2
The two reports by FIDH, Oxfam America and their partners, as well as their joint summary, are available here.